13 Nov

Gala Dinner 2019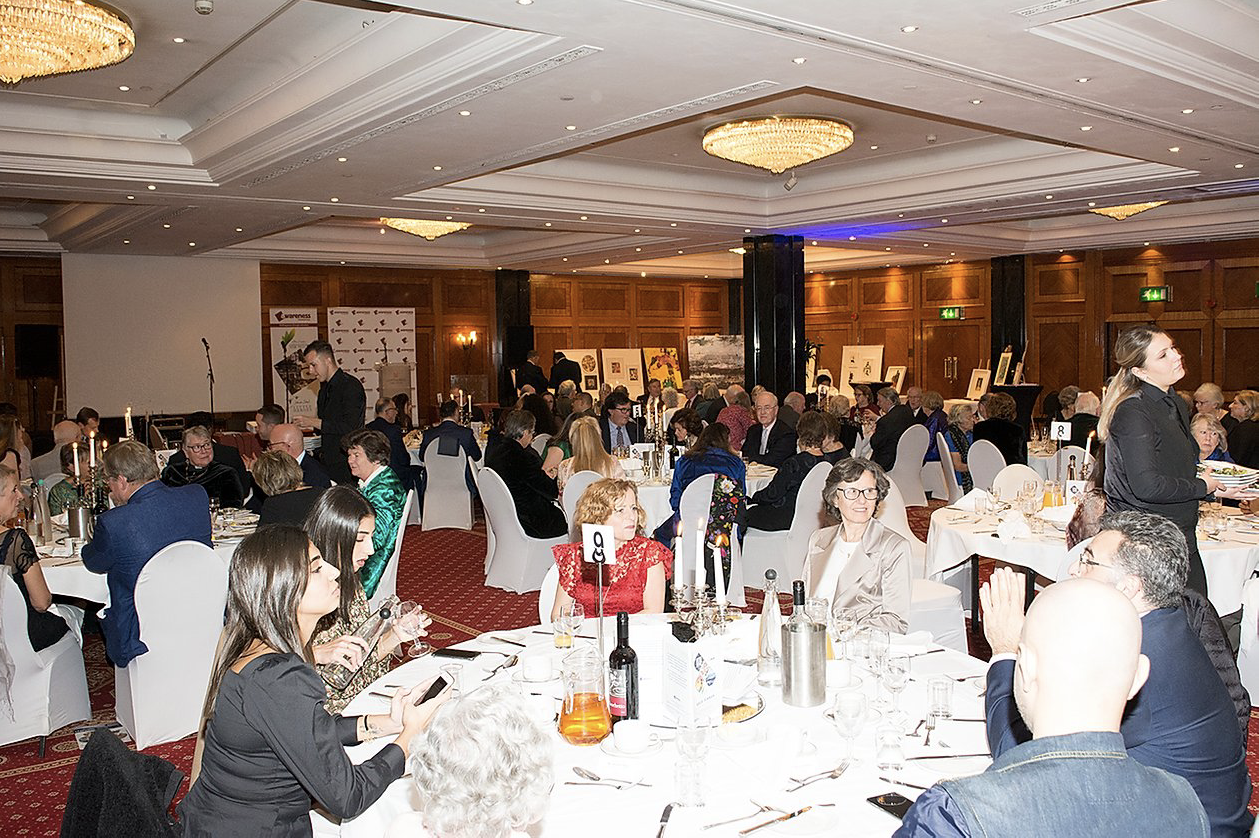 Over 100 people attended our Gala Dinner this year, more than half of whom were newcomers.
Huda Nassar, the event organizer, said, "I am pleased to say that the event was a great success. In addition to raising over £15,000 for our work, we had great feedback from so many who attended the Gala Dinner."
A very special guest this year was Crystal Starr, a wonderful singer who came from the United States to support our cause. Crystal and her backing group, The Bowties, (photo right)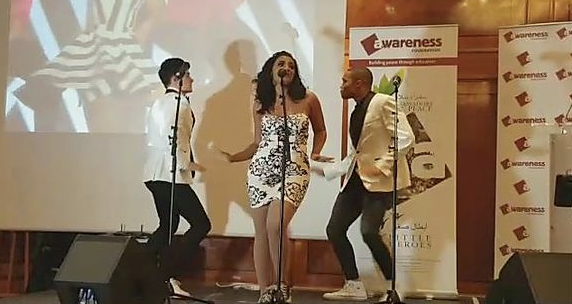 provided fantastic entertainment. Crystal has her own no-profit in the States, Little Voices, and she had first heard about us through our Little Heroes program. Crystal donated her entire performance. Special thanks are due to UK-based Mastermind Promotions, Crystal's PR and Marketing Team, for making her performance possible!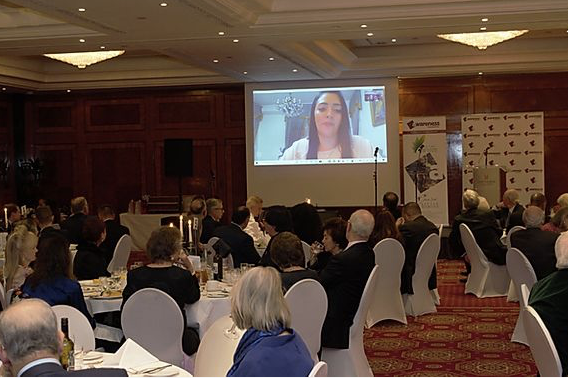 Another special guest – albeit by Skype – was our Middle East Coordinator, Elza (photo left). She gave her own powerful testimony after we showed a short film about our Little Heroes program in Syria.
Our final special addition this year was an amazing display of Syrian art by Gallery Hiba (photo below). In addition to showcasing the talents of internationally-renowned artists, this raised more funds for our work.
 We had one Awareness Award to give this year. We recognized Peter Macklin's lifetime of extraordinary charitable work, serving the homeless through his work with The Passage and building peace for many years with the Awareness Foundation (photo below: Peter receives his award and certificate from Nadim and Huda).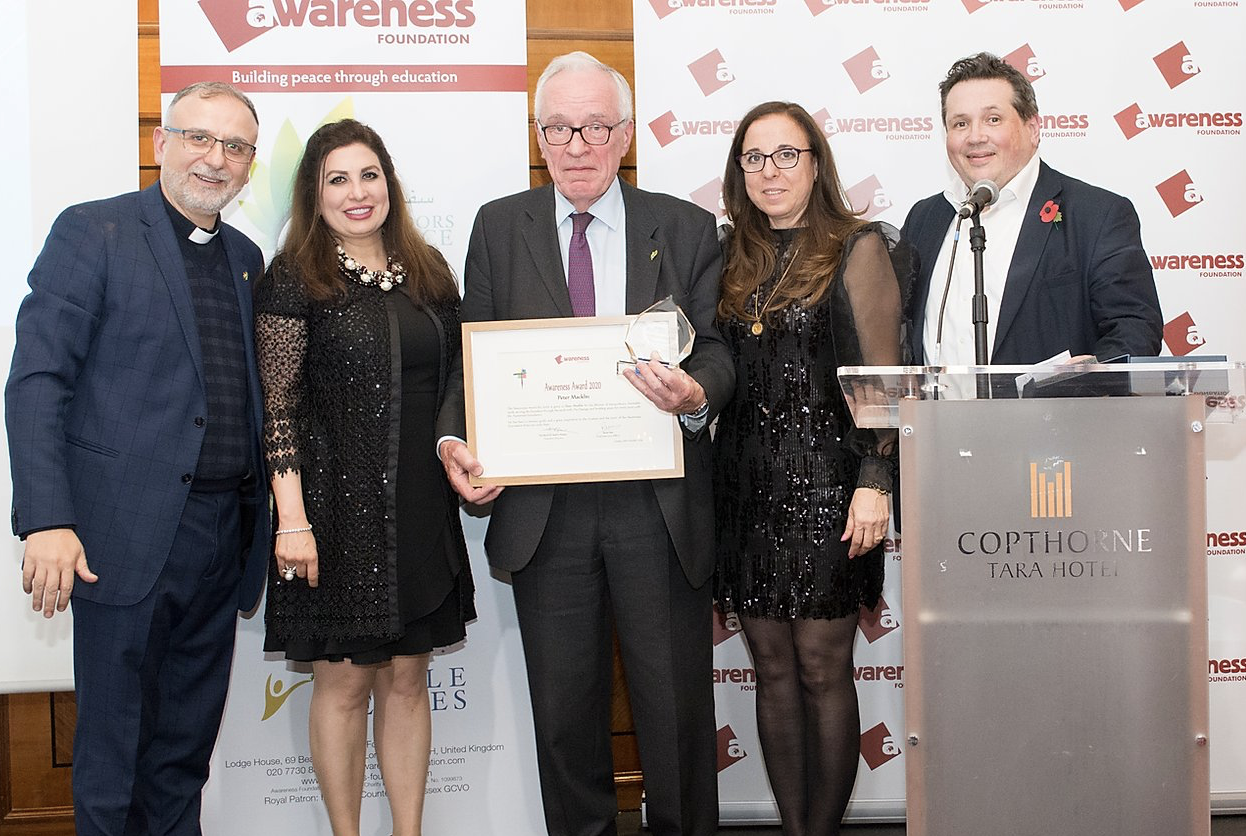 We also gave a special certificate of appreciation to Carina Dingemans (photo right) for her extremely generous support of the work of the Awareness Foundation over so many years. In addition to working as a volunteer with the Foundation for many years, this year Carina raised thousands of pounds for the Little Heroes by undertaking the 100km walk along the Camino de Santiago.
After his humorous performance last year, St.John was invited to become our MC for this event. Reem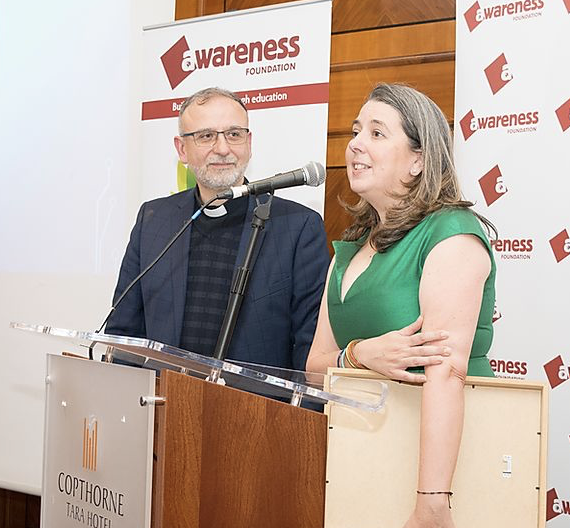 Issa, our CEO, said, "St.John was a real entertainer and everybody loved him."
We would like to thank everyone who came to our Gala Dinner this year, with many thanks to the wonderful team at the Copthorne Tara Hotel.